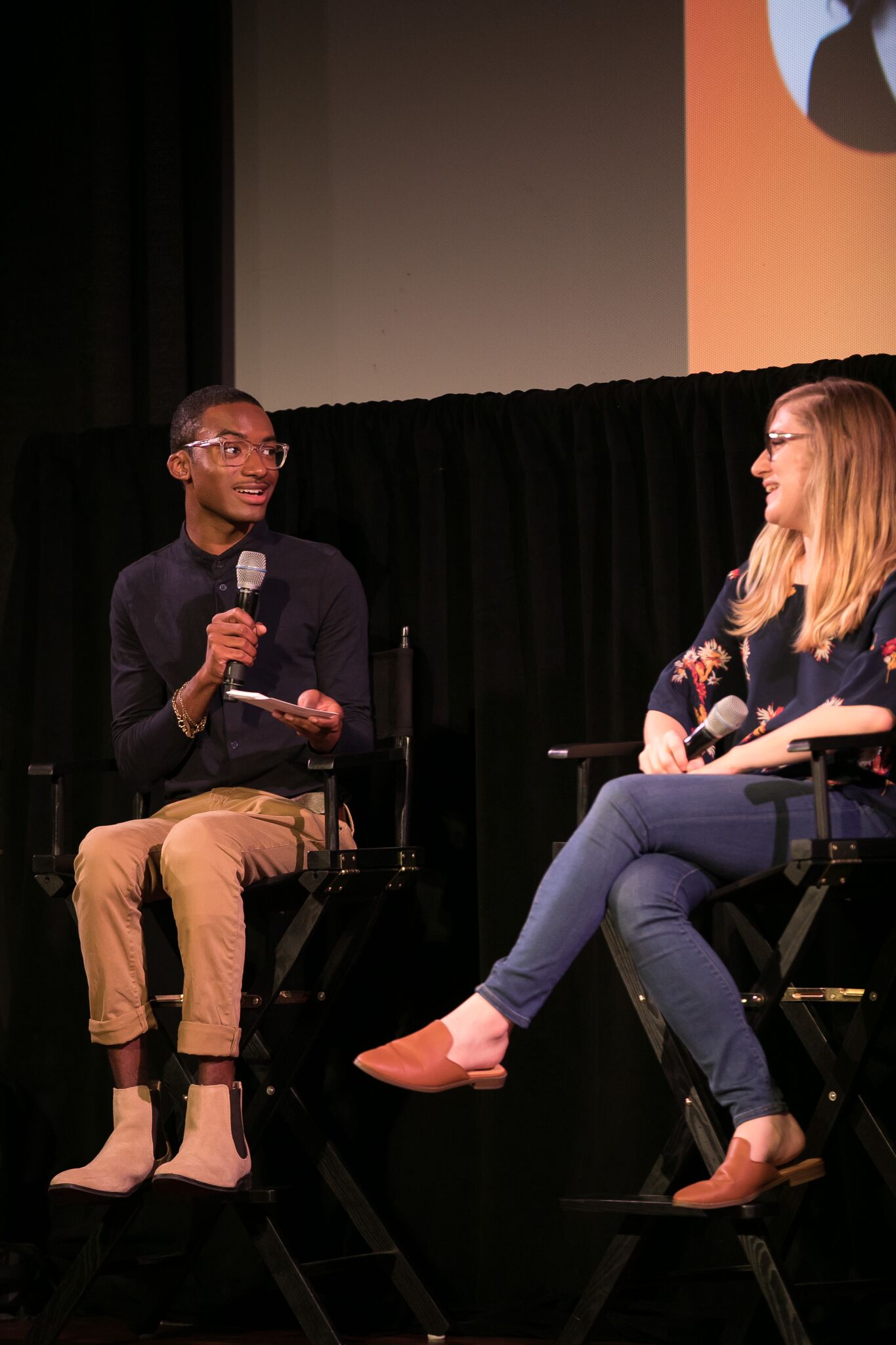 I both moderate + speak on panels regarding finding your voice online as a young person, and staying safe while utilizing the new opportunities for connection + community that social media presents us. I also moderate + speak on panels regarding the news industry. I can't get enough of speaking at high schools + colleges that are looking to have their students take on social media storytelling. In any engagement, I'm valuable because I'm able to bring up my experiences working with Instagram and in telling international news stories specifically on social on various outlets with large audiences. It's up to you to bring me in and allow me to share what I know.
Below you'll find sample speeches that I'm happy to personalize for your specific engagement.
For high school + college students.
Social Media Storytelling: I Ship You + Your iPhone
Look, journalism students know better than anyone that us + our friends are on our phones. We're ALL on our phones. So why are we showing up to stories with $3,000 worth of equipment and only using that to tell stories? Why are we walking by moments that make headlines without covering them because we're not the reporter for that week's school show? I don't know. What I do know is that I have my iPhone in my pocket, always. It's my secret weapon that has Instagram, Twitter and other storytelling outlets. So when I hear of chaos at the airport on the local news I use my iPhone to call an Uber to the terminal with the action. I use my it to call JFK's media team to let 'em know this teen journalist is on the way and that I'll need to do a stand-up. Upon arrival, I hop onto my Instagram Story to immediately begin holding the viewer's hand as I explain what's unfolding before me. I'm able to easily interview passengers and location tag my Stories so people searching for raw, real-time info can find my updates! When I'm finally cleared for the standup, my viewers already know what's happening. So I head outside with all the equipment and do the full on-camera report. Later I'm able to repurpose video I aired on social for the package and share an even more complete story.
This is the reason Instagram asked me to be their official host of their March for Our Lives coverage. It's why Mic.com flew me to Chicago to be their sole correspondent on the ground for the Road to Change tour that marched through the South Side. Because I was already doing it. And I can help your students begin to do it to. It's why I ship my generation + our iPhones!
For high school + college students and honestly all other humans! :)
Personal Branding: Don't be a fake fan.
We all say we loooooove Instagram, but do you really? When you're asking your followers a question on Story, do you use the poll sticker? When you arrive at a networking event or conference, or even a school dance…do you use the designated hashtag when posting to Feed? Do you @ the people you've talked about in the description of your IGTV videos? Are you even on IGTV?! Have you saved your most memorable moments + your best work to Highlights? If you've answered no to any of theseeeee you'reeee a FAKE FANNNN!!! I'm here to show you the ropes and help you make sure you're using all of social media to your advantage! When you're starting out I believe that means being on the platforms you enjoy + those your industry requires (i.e. how can a student journalist not have a twitter?). I also believe that means having your own space online aka a website that you'll use your summer or on-campus job money to pay for if you want it to be nice like this one! :P
My branding myself as a teen journalist and allowing my online presence to grow + expand as new features are released on social has helped me land gigs with Instagram, Teen Vogue and other outlets. It's also helped me keep the ball rolling — offering me meetings, opportunities, and brand deals. I want to help you + your students get into and understand your online presence. I wanna make sure you're not a fake fan. 😝
…But wait, there's more
Right now I'm focusing on speaking about journalism, social media storytelling, online safety, personal branding, blogging and youth in media. I am also beginning to speak about mental health + gender equality. These are important topics that I believe need more of a light shined on them.
I hope to add more speech samples soon! I'm still figuring out my place in this big world + have lots to share.
Still don't feel seen?
Want me to host your event, moderate your panel, or speak on it? I'd love love love to hear more. hmu.
Something not here that you think I can speak to, or just want to run an event by me? I'm always interested in pitches. hmu.