Incumbent Bill De Blasio Secures Re-Election in Fierce Race for New York City Mayor
Written by Malick Mercier. Edited by Ithaca College Professor, Raza Rumi.
Interview with NYC Mayoral Candidates, Nicole Malliotakis (R) and Akeem Browder (GR). Photo Courtesy: Nicole for NYC - https://nicolemalliotakis.com/photos/
Incumbent Bill De Blasio, a Democrat and Working Families party member scored a second term as New York City mayor on Tuesday. He became the first democrat to win two terms as New York City mayor since Ed Koch was in office, nearly thirty years ago. At campaign headquarters he expressed gratitude and hope toward the jubilant crowd. De Blasio was up against Republican New York State Assemblywoman Nicole Malliotakis who, through representing both the boroughs of Staten Island and Brooklyn acted as his main challenger. Despite this, De Blasio managed to snag over 62.11% of the city's vote.
In total there were six candidates competing against the mayor. Among Nicole Malliotakis who came short of 28% of the vote in the Conservative, Republican, and Stop De Blasio parties, competitors included Sal Albanese of the Reform Party, Akeem Browder of the Green Party, Independent Michael Tolkin of the Smart Cities Party, Independent Bo Dietl of the Dump The Mayor Party, and Libertarian Aaron Comey. Issues such as affordable housing, homelessness, education, and transportation were at the forefront of their campaigns for the city that never sleeps.
Although she was running in what has proven itself to be primarily a democratic city through a 6-1 ratio against republicans, on Election Day Malliotakis was excited. She was surrounded by her family as she toured the city to cast her vote. From the learning that takes place behind classroom doors to what happens with taxpayer money behind the scenes she had strong views on urban issues. "Property tax has gone up 28% in the past three and a half years De Blasio has been in office driving senior citizens and the middle class out," Malliotakis said.
The mayoral salary in the Big Apple is $258,750. Malliotakis worked during the campaign to prove to voters that she would use the job she would be getting paid for to keep an eye on their money by voting against tax increases. On the campaign trail, Mayor De Blasio admitted to unfairness within the property tax system and said he would take time to develop a better plan.
When asked about how she saw the benefits to outweigh the $1 billion price tag to introduce her new transportation plan, which would implement Smart Light Technology, Malliotakis said, "it's not going to be additional money," but that she instead would "shift money from the $1.6 billion that De Blasio is bringing into the city for vision zero."
Malliotakis also argued that the city has a "public school system in which the mayor has taken out control from teachers in the classroom." Mayor De Blasio campaigned on the education front by touting the free universal pre-K plan that he implemented over the summer which now allows 70,000 students to learn from what he calls 'high quality pre-K.' During De Blasio's first term, New York City public high schools reached the highest graduation rate to date, 72.6%. Malliotakis believed these high graduation rates accompanied by the lowest dropout rates to date did not equal success for the students of New York. She noted that many students who graduated and went on to CUNY schools had to take remedial classes due to unpreparedness.
Green Party candidate Akeem Browder, despite having a lack of media exposure, in comparison to De Blasio and Malliotakis managed to clench 15,763 votes or 1.44%. After the projected loss, he said "Absolutely, I felt I was the right man for the job…and I'll feel I'm the right man for the job when I wake up in the morning." He sided with a twitter user in comparing himself to Bo Dietl who only won 0.96% of the vote "If we had spent whatever he spent on his campaign I'm certain we would've won," said Browder. He also noted a currently unfounded claim of voter manipulation through workers at the polls. When asked whether or not his being a registered sex offender hurt his campaign, he said that only one individual messaged him on social media about the matter, to which a supporter came to his aid.
Winning Mayor Bill De Blasio promised to continue to be a loud, proud, harsh critic of President Trump. He noted on the campaign trail that some of his opponents, including Malliotakis voted for the sitting leader of the nation. At his acceptance speech, De Blasio said New Yorkers showed up to signal that this was their city, adding that "If you turn against the values of your hometown, your hometown will fight back." His supporters cheered at the realization that their dream of another four years with him at the helm had come true.
Malliotakis reportedly called the mayor to congratulate him, but could not reach him.
The former Digital Instruction and Information Services department at Ithaca College is undergoing some changes — starting with a new title for the department: Information Technology.
IT is now headed by Chief Information Officer David Weil, who was appointed in May. The mission for the department, Weil said, is being reshaped to be more student-focused. He said students could find it easier using the letters "IT" or word "technology" in computer searches for technology needs.
Weil also said the department has been improving college portals like Sakai and adding new technology features. The newest update for Sakai includes an easier-to-use interface on mobile devices. Weil also said a new feature called single sign-on, where one sign-in allows access to multiple college sites on a college-registered computer, is in its early public stages. The feature will be coming to major apps like Sakai and HomerConnect over the next two years.
More new software, expected to make its debut this fall, is called the IT Online Service Desk, which will allow for more accessibility in fixing equipment or requesting assistance from IT online by making an appointment with their staff.
"It'll be much more friendly, and you'll be able to go and get a lot of common questions answered on your own," Weil said.
This is not the first time in recent history at the college that this department has been redesigned. The department was previously called Information Technology Services, but in October 2015, it changed its name to DIIS. In August 2016, Weil began the department's revamp, which is now being finished.
With the new leadership, the department is also undergoing a reshuffling. The department currently has four subdivisions, two of which are being redesigned. Each division is clearly outlining which technology issues it will handle at the college. Now, for example, Teaching and Learning with Technology is more focused on ensuring that teachers know how to use technology in the classroom, Weil said.
Casey Kendall, who was appointed to lead the Architecture and Infrastructure division in May 2016, is now the executive director of applications and infrastructure. Kendall said that before the redesign, divisions in the department did not have clear expectations on concerning which technology issues they would handle. Now, large-scale issues that could occur with software like HomerConnect that require core developmental fixes go to Kendall's team, whereas other problems that may only be happening on a single computer are handled by another division.
"We wanted to create a better alignment for what we offer," Kendall said.
Weil also said the college has been revamping its internet and technology network by replacing fibers and cables to keep it running smoothly. It consists of new fibers and cables that the college has invested several millions of dollars into, but Weil would not disclose a specific cost for the revamp.
Weil said that due to these improvements, the college's internet bandwidth has doubled. Redundancies have also been built into the new technological equipment so that in the event that someone were to cut the cords, systems would still be operable due to another fiber running in and around the campus from a different area or direction.
"We recognize that we had a lot of work to do to bring our foundation up to a level that can provide quality service, and those investments are paying off," Weil said.
The JetBlue Foundation Celebrates 2017 Grant Recipients with JFK Airport Tour
Written by Malick Mercier.
JetBlue Airways and The JetBlue Foundation chose the New York Hall of Science as the venue to present the thrusting of grants totaling $162,000 into the arms of six different aviation programs that all share the common goal of teaching science, technology, engineering, and math, to the fliers of tomorrow. STEM education is notoriously unavailable specifically to minority groups, women, and veterans.
JetBlue hopes to fulfill its mission of Inspiring Humanity by placing the money right in their hands. Joanna Geraghty, President of The JetBlue Foundation, added, "We must fuel the talent pipeline now with diversity and focused educational training to ensure the future of our industry. Our goal is to provide access early on to prepare students for jobs after high school or for college."
This matters to JetBlue because the statistics that need to be changed are staggering — less than seven percent of women are commercial pilots, and only three percent are aircraft mechanics. Minority groups don't surpass those numbers either.
Vaughn College of Aeronautics and Technology plans to use its grant to purchase a flight simulator and to develop programming. Their doors will be open to students, as well as six hundred New York City-area high school students.
Hiller Aviation Museum in San Carlos, Calif. plans to develop the "Real Time Weather and Air Traffic Control Exhibit," an interactive experience for visitors with the funds already provided. Low-income San Francisco-area students, specifically four to eighth graders will be a priority for the non-traditional classroom experience.
Norwood's Above The Clouds will use the money provided to fund programs that will take youth ages 6-18 up into the air for flight lessons with Certified Flight Instructors.
In Worcester, Mass., the Worcester County Horticultural Society's Worcester Tree Initiative will put the funds toward the development of an environmental education program for inner city youth. There is both a computer and field component to this program.
The New York Hall of Science will bring the money over to their Science Career Ladder Initiative which continues to recruit high school and college students to teach and explain science exhibits to museum visitors.
North Charleston, S.C.'s Trident Technical College Foundation will purchase a Flight Deck Simulation Trainer to give students a real-world feel as to what it's like to fly an airliner.
JetBlue itself after donating the money to the aforementioned schools and organizations is to continue to lead the way for STEM education and the ushering in of new male aviators as well as aviatresses. Its University Gateway program allows students to develop relationships with JetBlue employees in the career they aspire to, at as young as the elementary school level, and as old as those enrolled in college. These students go on to become Pilot Trainees with JetBlue.
Following the grant recipient ceremony, everyone had the opportunity to see the A320 engine on display at T5, as well as to go where customers aren't allowed — the crew lounge. The group was spoken to by Airbus A320/A321 Captain Eric Poole who is also the airline's Assistant Chief Pilot of New York. Poole spoke of his time at the University of North Dakota, and his experience in mobility at JetBlue – moving from flying the Embraer to Airbus, as well as previously being the Manager of the University Gateway Program.
Employees like the assistant to Don Uselmann, JetBlue's General Manager of JFK Airport Operations (AO) as well as those others that work in AO and Ground Operations (GO) explained their duties to the group as well. Prior to the speakers, everyone had the opportunity to tour the JetBlue Airways Control Operations Center which was especially busy due to the active construction on the airline's ground operations office.
Lastly, due to the rainy weather, JetBlue had to rummage to locate one of its aircraft and were successful at finding a non-MINT Airbus A321 leaving later in the day for Las Vegas as well as two delayed pilots, waiting to fly an Airbus A320 to Savannah, Georgia, to show off its flight deck.
Overall, the grant recipients thoroughly enjoyed their experience which offered a peek behind-the-scenes in the airline industry. They all had the chance to have their questions answered which left smiles and ongoing conversations as they exited the terminal.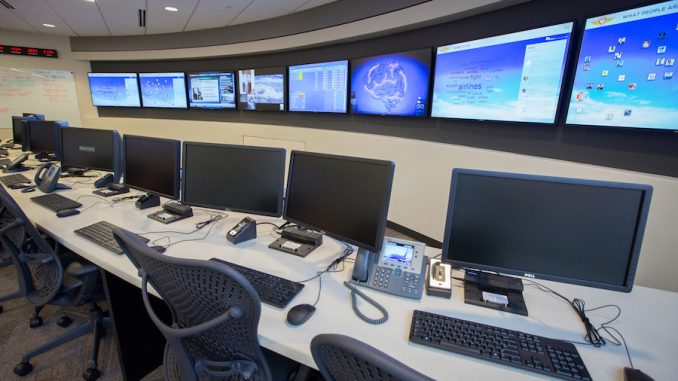 How Airlines Can Prevent Upsetting System Outages
Written by Malick Mercier.
Interview with Continuity Software's Chief Technology Officer, Doron Pinhas
Delta Air Lines, British Airways, and Southwest Airlines all experienced devastating, costly, and upsetting delays over the past several years. This past summer, airlines expected to see one of the busiest travel seasons in history. When that proved true, they tried to be as prepared as possible. Many of their passengers, though, found themselves battling chaos both in the sky and on the ground as technology failed. When the news broke customers began questioning how this could happen, and why it happened while airlines searched for the culprit.
AirlineGeeks didn't just look for an answer, but went to find a solution. We posed the question "how can we prevent this from happening in the first place?" to Continuity Software's Chief Technology Officer, Doron Pinhas. Continuity Software is eleven years young and carries the mission statement of "helping the world's leading organizations prevent unplanned IT outages."
A History of Mistakes
It's important to remember that airline passengers aren't always vacationers. Some people are heading to the airport for a red eye, to a funeral, or hopping onboard an afternoon flight to a family member's wedding. Big impact on personal lives is why tech issues in aviation receive so much attention. When people are grounded, frustration peaks; and social media makes it much easier to voice.
In an era of ordering food at the airport from wired iPads, airlines rely on similar technology to get passengers to go where they need to be. Just like you and I see pop-ups on our personal systems for updates, airlines do too. Pinhas says that is because "systems as a whole are not as reliable as many commodities we are used to." Airlines understand this and try to create redundancy by adding more components. However, bringing in more components makes systems a lot more complex and harder to manage which, in a way, makes them even more unreliable than they were to begin with. This is due to backup components essentially becoming another part of the system, that too can fail and turn the whole system to ruins unless everything is connected perfectly at all times.
Resiliency for a Price
Doron Pinhas is convinced that airlines have made resiliency a key player in their arsenal of technology. Resilience doesn't come cheap, and the CTO does not believe airlines are saving money on such an important aspect of their companies. He favorites the expression that an airline is "only as strong as its weakest link."
This means that even the smallest configuration mistake can bring an entire system down. And when a system is weak, most times you won't know until it's too late.
For example, if you have put a backup in place, you won't know that the middleman connecting the two doesn't work, until one system fails. Sometimes it takes an airline being punished by its own system to realize that something they have installed simply doesn't work. Delta experienced the epitome of this kind of scenario. A small fire caused a malfunction at the airline's Operations and Customer Center (OCC) in Atlanta. Power control was lost and the system rerouted itself to a transformer outside of Delta. A powerful surge to one source is what caused the actual outage. The airline restored power soon, but vital systems and equipment refused to come back online. A fail-safe setup is, after all, a complex setup.
Southwest, for example, had a technology malfunction that caused the cancellation of over 400 flights. Countless systems within the company had been impacted. Doron calls it the "tip of the iceberg." The airline shared its statement in one of the ongoing updates during the outage crisis. "Make no mistake. Southwest created this problem…. The machines failed, but Heart prevailed."
Calling All Data Experts
Pinhas' experience has led him to believe that airlines like many other industries "do not check all IT components every day." This is likely because the occurrence of a system completely shutting down is an infrequent event. Disaster recovery tests also have proven to come intrusively and with a hefty price tag. Airlines need to perform check-ups seamlessly and Pinhas believes that more communication will help fulfill that mission. He says that airlines need to hire people that "specialize…and those individuals or teams need to share information with one another." Outsourcing in the job market causes misconceptions which he believes can stagnate the preventative process.
All in all, Doron Pinhas of Continuity Software believes that IT outages are preventable. He urges airlines, their customers, and companies in general to remember that a car can work with many inoperable parts. However, an "ounce of prevention, is worth a pound of cure." With many airlines flying across the world and their thousands of computers, it's become more pertinent that airlines take every taxiway turn in preventing the next grounding.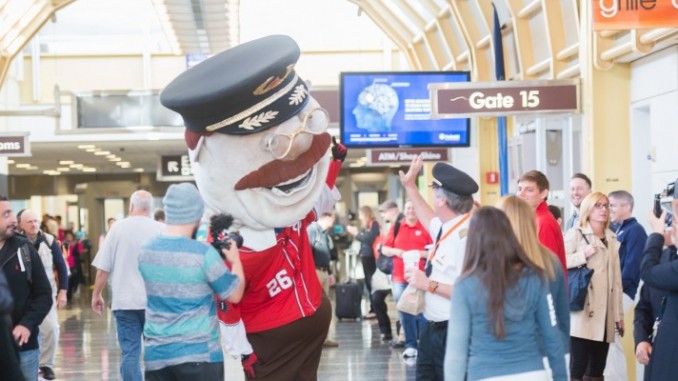 Delta Brings Opening Day To LGA, JFK, and DCA
Written by Malick Mercier.
Photo provided by Delta
Opening Day for Major League Baseball is a day avid sports fans religiously head to stadiums, to see their favorite teams perform after time away at spring training. However, Delta Air Lines, the official airline of the New York Yankees and the Washington Nationals, is making it a day for aviation aficionados to take to the skies.
Following our coverage of the eight-year partnership extension between Delta Air Lines and The New York Yankees, Delta has updated us on their plans for Opening Day – the day that gives the regular season "clearance for takeoff."
Unfortunately, due to inclement weather the Yankees have postponed their big day until Tuesday, April 5th. However, it appears that the other eleven games planned for Opening Day will go on without the Yankees who were scheduled to face the Houston Astros at Yankee Stadium.
At both John F. Kennedy International Airport and LaGuardia Airport in New York City, sports fans wearing team apparel will receive early access for premium boarding. Additionally, those sporting their favorite team, will be able to purchase premium items at a discounted price. And for those unaware with all that's happening in baseball today, there will be the chance of flying into an airport surprised. Delta has informed us that they will be giving away free gear and tickets at JFK and LGA. And in the Delta Sky Clubs, at both airports, there will be baseball-themed food for travelers.
When Delta released their brand new prominent and permanent signage at Yankee Stadium, in an exclusive event, there were galley carts floating around with popcorn in baseball themed bags. We wouldn't be surprised if those, and other items, made another appearance. Prior to tasting baseball flavored treats, or even making their way to the gate, or Sky Clubs, passengers will receive team-branded luggage tags at check-in.
Additionally, on March 28th, Delta became the Official Airline and Official Private Jet Carrier of the Washington Nationals. The airline says this is it "stepping up to the plate in Washington." To celebrate, this five-year sponsorship, and partnership Delta invited Four of the Washington Nationals Racing Presidents to Ronald Reagan National Airport, on Opening Day. George, Abe, Tom, and Teddy were the mascots in attendance. They assisted their new favorite airline in welcoming passengers on board a flight to the airline's hometown, Atlanta, Georgia. Passengers onboard that flight will be front and center for gifts from the team including tickets to the Opening Day game in Delta's hometown, Atlanta, Georgia. The Washington Nationals will play the Atlanta Braves at Turner Field. Alongside Delta, the special four will also hand out signed team merchandise!
Ultimately, Delta is shaping up to bring more baseball fans to aviation, and more sports to AvGeeks.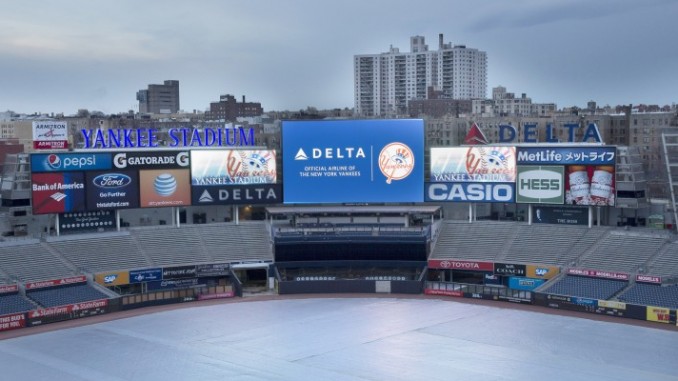 Delta Renews Partnership With New York Yankees, Unveils Brand New Sign
Written by Malick Mercier.
Photo provided by Delta
Delta Air Lines gathered media, along with some of their very own crew, and even customers who have embarked on the Delta experience, to celebrate the renewal of the airline's partnership with the New York Yankees.
Yankee Stadium, known for its massive baseball field similar to most stadiums, also hosts the Delta Sky 360 Suite. During the regular season, Yankee fans have the opportunity to watch the game from a breathtaking 360-degree panoramic view. Inside the suite, fans are able to eat, drink, and relax. This is exactly what Delta fans did to celebrate the renewal of the partnership with the team for another eight years.
Former Yankees pitcher, Mariano Rivera, joined Gail Grimmett, Delta's Senior Vice President of New York, in lighting a brand new sign at the stadium, which would add a special touch to every Yankees game through 2023. Gail Grimmett told us at the event that Delta's changing the Yankee Stadium skyline made history. The sign located above the scoreboard in the right-center field is said by Delta to be the first time "a New York Yankees partner has been granted such significant exposure." The sign was illuminated by the Delta executive, and former player, on March 3, which truly kicked off the extension of the partnership. The agreement was originally announced on October 5 of last year. At the event, Mariano Rivera engaged in fan photos, and guests had the opportunity to hold the famous rings of the Yankees as well as the signature bats.
One major term also in the partnership is for Delta to actually fly the Yankees. In fact, the airline flew the well-known team almost 300,000 miles over the past eight years. In an interview with Gail Grimmett, we were told that the future plans are to fly the Yankees on reconfigured Boeing 757s. As a part of the association with the team, Delta plans to engage in events and fan promotions during both the regular season and even spring training. The team will be continuing to prepare itself for Opening Day at Tampa, Florida's George M. Steinbrenner Field through March 31st.
When the regular season launches on April 4th, at the team's home stadium, they will face the Houston Astros. Delta plans to explore its presence on baseline rotational and LED signs; seen through a daily in-game scoreboard feature as well as in Yankees print publications. According to the Yankees Senior Vice President of Corporate Sales and Sponsorships the team "values [their] tremendous ongoing relationship with Delta." Additionally, he says the team is excited "to continue working with Delta to strengthen its global brand exposure, especially in New York, where it has achieved unquestionable success."
In addition, the airline renewed their partnership with the New York Mets making the airline the "Official Airline of New York baseball." The Mets' stadium, CitiField, also sports a Delta Sky360 Club which is a club level space. In addition, Delta plans to tag along with the Mets on programs that concern community outreach, as well as spend time in the palm's of guest's hands that explore the new ballpark app. The airline will also sponsor all cultural-themed home games during the regular season.
It appears that Delta Air Lines is equally elated to be hosting both teams in the air, just as they do on the ground.
The sweltering days of July have taken their toll on each and every one of us at Spring Creek Towers (SCT). Some may be wondering how to cope with August, which is predicted to be just as hot. Well, it isn't too late to get in shape, or to keep the shape you have because your SCT community has everything you need. From bike lanes, and basketball courts, to playgrounds, and spacious green lawns; SCT has an array of diverse spaces and methods for residents to get moving, even in the heat.
Running Lanes
As a runner myself, with the goal of one day running the complete 26.2 miles of a marathon, I notice the waves and smiles of runners everywhere. In SCT, the lift in spirit coming from the endorphins of happiness, after a run, make it all worthwhile. After running, many say they are able to say "good morning" with energy, and newfound enthusiasm. With the Belt Parkway and its running lane so close by, in addition to the countless paved paths, and grass-surrounded ovals, it would be difficult, even for the brightest procrastinator to come up with a reason not to exercise. Running is more than just a cardio workout; it's an opportunity to see your community in a different light. Whether you are grabbing a buddy, and running from the A-section all the way to the H-section, or just testing your limits alone, running offers an endless opportunity for an essentially free way to grow positive vibes, whilst honing in on muscle. And if running is truly daunting, you can start speed walking. The light breeze curving around the corners of the buildings in the community can help you pick up momentum.
Bike Lanes
Biking is and always will be a favorite to many. The feeling of losing the training wheels as a child and pedaling on your own is exhilarating. As long as you are wearing a helmet, and protective gear, biking is a way to commute with speed, while giving your upper, and lower legs a run for their money! Your upper body strength can also improve, and you can probably expect more than a few stares on your next beach day. From improved joint mobility to a stronger sense of coordination, bikers report great experiences. With all of the beautiful scenery in and around SCT, it is a great opportunity for all residents to take advantage of. Additionally, you will be helping the environment, and Ways to Stay Fit this Summer in Spring Creek Towers bringing a summer smile to all.
Basketball
SCT isn't comprised of five basketball courts for nothing! Teenagers especially have been seen snagging the courts – trading air conditioned apartments and the latest gadgets for an active and sweat-provoking day out. The CSection basketball court has just received brand-new flooring, which is helping to add an industrial feel, different from the past colorized flooring. Young people in love with basketball are taking advantage, and truly love the endless opportunities within the sport. While some remained competitive I found SCT resident, and teenager Jordan on the court in the H-Section. He humbly exclaimed, "Basketball became special to me because of the fun and competitiveness." He went on to say that the game continues to show him "the will to never give up." Even with rain in the forecast on a summer day, it was hard to find a court without a ball and its players. Sitting outside of the Green Park I was stunned to see one of the four courts empty. I was soon proved wrong as a little boy rode his bike, while one rode his scooter to the court helping to frame and complete the picture of an active B-Section
Playing in the Playground
A hard downpour was in the forecast, but so were the laughs, giggles, and pitter-patter of children's feet against the floor of the Orange Park sprinkler system Parents told me, "Look you can see, they're happy!" One continued while in her beach chair, "I'm definitely worried about the rain." She explained that the kids would have to grab their towels, and end their fun; because once it starts raining – she would be leaving. But a speedy line loudly followed "I'll be back tomorrow!" Children all over Spring Creek Towers are extremely active, and ready to tackle summer. A school year of work means a summer of riding the scooter, shooting 3-pointers, and running to the ice cream truck. That is, after all the meaning of summer.
Disclaimer: Please consult with your physician before starting any of these activities.
Photos: Malick Mercier
Trudging through August's sweltering heat can seem cumbersome for many, but not the children at the Starrett Early Learning Center's (ELC) day camp. These campers, ages three through five, excitedly walk to the Brooklyn Sports Club (BSC) twice a week, so that they can start their summer days in the gym's training pools. Little hands splashing, and the tiniest, yet biggest of smiles echoed throughout the pool's atrium. The exuberant expressions on the children's faces showed that they were not ready to get out of the pool, after less than an hour of pool time. However, they know that they will be back. These toddlers alternate pool days, so while one group is at the BSC, the others are at the sprinklers or enjoying various activities at the ELC.
Some parents may worry that their children aren't learning enough during the summer because they are not participating in educational activities. Well that isn't the case for campers at the ELC because leaving the pool means trading floating noodles, for classroom discussion.
"Since the children are so young, many of them haven't had a chance to become acquainted with water, and this activity is a fun way to cool down in the heat, exercise and learn about water," said ELC kindergarten teacher, Kimaura Buntin. After having fun in the pool, the children walk back to their classrooms at ELC where they learn all about the water. "The students like to show us what they have learned," Buntin said. She described their continued enthusiasm when they explain why their foam toys float but their swim goggles sink. The lessons at ELC consist of what animals live in the water, water density, and learning the different types of bodies of water (such as oceans and lakes).
Although the children aren't receiving formal swimming instructions at the BSC, they are splashing around in the water and enjoying themselves. Being that they are so young, ELC teacher, Sacoyia James, said she hopes they are learning how to maneuver through the buoyant water as a form of exercise. By jumping up and down in the water, the children are strengthening their leg and arm muscles due to the resistance the water creates.
Summer swimming proves to be a unique way for the children at ELC to express all of their energy, cool off, and be educated.
Photos by Malick Mercier
Above are additional photos I captured for the Spring Creek Sun.
The waves of happiness left after Disney's, Finding Nemo were reignited on June 17th when Finding Dory made its debut in theaters. I went to the Linden Multiplex Cinemas and saw the heartwarming, magical movie.
In Finding Nemo, Dory helped Nemo's father find his son. However, in this tale, Dory is looking for her parents, and while on the mission she ends up discovering herself. The only thing in her way is her short-term memory loss. I found myself laugh-ing alongside a school of fish on the big screen as Dory explained her condition, the only thing she somehow can't forget.
Walt Disney Pictures and Pixar brought together directors, Andrew Stanton and Angus MacLane to create the film which has a 7.9/10 rating on IMDb – "the world's most popular and authoritative source for movie, TV, and celebrity content." Ellen DeGeneres reprised her role as the voice of Dory, and Albert Brooks continued to add the chords to Marlin, Nemo's father. The film has been critically acclaimed and that could be due to the refurbished plot that brought moviegoers into Finding Dory auditoriums.
While on a school field trip with the famous stingray Mr. Ray, voiced by Bob Peterson; and his students, Dory's memory is triggered by a dangerous current that swept her away from her family. Nemo and his friends are warned to stay away. This ushers Dory into the unforgettable journey of finding her parents.
In the end, I walked away with not only a newfound love for cute baby fish, but a quest to discover what my dreams are, and to succeed in them. Whether a doctor labels you with an incurable disease, or a teacher tells you that you'll never understand something – you can do it. You can do anything, and in this movie Dory proves that after being faced with rip tides of adversity. The movie was inspiring, motivating, and encouraging. Most importantly, it serves as a reminder to do what you need to do, in order to get where you want to be.
Photo Courtesy of: Disney